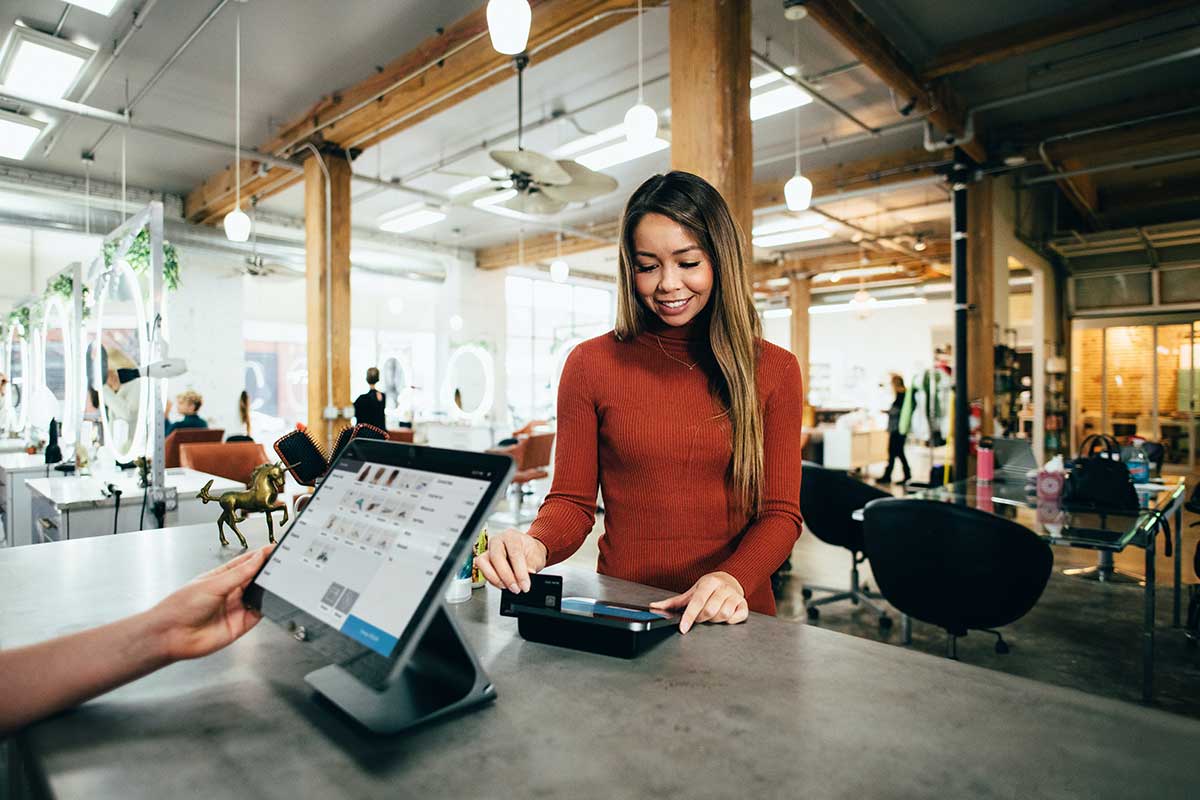 Technology in Retail Space
Retailers very well know that the new age customers have options like never before and they are spoilt for choices. To stand out, brands and retailers are using advanced technology to win over the customers by providing convenient and comfortable experiences across online and offline channels. The technologies used by the brands make sure that they are catering to the shoppers which are omnipresent – online, in-store and browsing online while they're in-store.
The idea of using technology in retail space is to meet buyer's expectations of experiential shopping, instant gratification, comfort, convenience and flexibility. There are several trends in technology in the retail industry which are helping retailers achieve all of these and more.
1: Intelligent PoS Systems
There are so many new ways of ordering goods, few of these are "Buy Online Pick up in Store" (BOPIS), one day delivery etc. To cater to these new ways, the point of sales system needs to handle these in an intelligent way. In the case of BOPIS, it should be able to handle the store's sales floor quantity in the database.
There are more such cases which need attention in the changing times we live in. The way forward should be to have systems that integrate with other technologies in business uses. Integrating online and offline transactions, inventory, and promotions across all in-person locations and online stores need to be handled by today's modern POS systems.
2: Indoor Positioning beyond Store Maps
Indoor positioning systems have been trending in the retail industry for a few years now. It helps users to navigate indoor areas where GPS doesn't function properly. Over time, many uses of IPS have been identified.
These systems not only help guest shops, but also have 3 major advantages of providing targeted suggestions, tracking customer traffic and item tracking.
IPS systems can also be used by retail workers to find item's location using IPS maps during order fulfilment. Also, if the item has IPS tracking set up installed, it can be easily reached upto even if it's kept at a wrong location by mistake.
3: Augmented Reality for Customers and Store Staff
Augmented Reality is the talk of the hour for so many right reasons. It is a bridge between e-commerce platforms and offline stores through a variety of offerings. Its features like virtual trial rooms help customers make quick decisions about buying a product and can reduce the returns significantly. It can also help retail stores plan how to arrange their products, helping buyers to get a virtual idea of items stacked on shelves.
AR provides retailers with features which create excitement for their customers and in today's time and age, it is important to not only get shoppers inside the store but also to build loyalty.
4: Artificial Intelligence in the Retail Industry
Artificial Intelligence technology is aiding the retail industry to know its customers well. Retailers are using it to make better pricing decisions, forecast demands and plan product placement in the stores. AI also helps the buyers find the right product quickly. Not only this, the analytics of AI can predict the behaviour of the consumers like what items were picked up or returned to the shelf. Because AI helps in predictive analysis, it helps in managing the stock and making decisions about upcoming orders.
6: Robotics and Store Assistants in Retail
Introducing robotics in retail space can enhance comfort and ease for retailers as well as customers. If there's a query they can guide the customer in the store or connect them to the nearest staff. For retailers, robots can be of immense use in activities like stock counting, locating misplaced products, identifying price errors and many more. It can also help in logistics and supply chain and thus increases operational efficiency of retailers.
All of us would agree that speaking is the fastest way of communication and thus retailers today are utilising voice recognition assistants to increase sales and profit. Alexa and Siri have not only been the part of households, but are the technologies that are changing the way shoppers shop. In times like today, when all of us have our hands full with so many tasks, voice assistants keep our hands free letting us multitask efficiently. Also, it doesn't need any technical expertise to use. Their ability to serve customers in the retail industry has improved tremendously. The most important part of the whole process is making sure that these devices are not intrusive and are genuinely helpful for the consumer.
One of the most known and used innovations of technology is QR code which is aiding the growth of various sectors including retail. Usage of QR code has not only reduced operational costs for retailers but also has added to the comfort and convenience of customers. Retailers now don't need to publish any informative pamphlets, a customer can read everything about the product using the QR code linked to it. The QR code can open in different forms such as text, pdf, coupon, video and even website link which can in crease the traffic as well as sales.
Other than the mentioned technology trends, there are mobile apps like Wooqer VM Implementation App which can digitise Visual Merchandising for the retailers leading to consistent and efficient VM across all stores of a brand.
So many retail companies have adopted digital technologies and are experiencing the advantages. Of Course there is an improved customer experience. Stores which can deliver comparable experience of online shopping certainly have an advantage over their offline retail competitors. Technology is giving retailers avenues to collect the data and analyse customer preferences and behaviour as well as suggesting personalised recommendations. Use of technology to automate routine work like stocking shelves etc is also letting retail stores make use of human capital in a more productive way. Freeing up employees can contribute to more personalised attention to the customers which can do wonders for a brand.